As with most popular and emerging tourist destinations in Thailand, Koh Lanta has an ever-increasing number of dive shops to choose from. Knowing which is best, is often a blind decision for many tourists, based purely on price and the feeling received from the dive shop closest to the hotel you are staying at. For numerous reasons, it would be wrong for us to say that one shop is the best, or better than another, there are simply too many variables to make such a statement.
We do however highly recommend Pimalai Divers, which has some of the best dive boats around Koh Lanta, and a great team of dive professionals that help you to relax and enjoy your dive in comfortable and safe surroundings. Established in December 2002, Pimalai divers is based on the beautiful and tranquil Kan Tiang Bay Beach in the South of Koh Lanta. Adjacent to the luxurious Pimalai Resort and Spa, which, for good reason, is a member of Small Luxury Hotels of the World, Pimalai Divers is not reserved only for Pimalai Resort and Spa guests and the dive shop can offer a pick up service for those not staying at the hotel.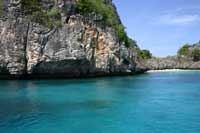 The Dive Shop is able to meet the needs of most divers, from total beginners to experienced divers with hundreds, even thousands of dives under their belt. Most of the PADI courses can be organised including the PADI Open Water, PADI Advanced Open Water Diver, Different Certification Courses, Rescue Diver etc.
The dive shop can supply all the equipment needed for your dive, so you do not need to bring anything. If however you get cold easily, then you may want to bring your own 5mm wetsuit (shop rents a 3mm shorty), as while the waters around Thailand are warm year round, some divers do get cold from time to time depending mainly on the time of year.
Pimalai Divers operates daily dives to Koh Bida, Koh Haa, Hin Mueang and Hin Daeng. The boat tends to leave around 8am and aims for a 2pm return. Trips to Hin Mueang and Hin Daeng may leave a little earlier and return a little later due to the distance from Koh Lanta.
For custom made itineraries, special packages, and the best prices we recommend you to contact Pimalai Divers before your arrive in Koh Lanta.
Click here to send Pimalai Divers an Email
| | |
| --- | --- |
| The Good: | Great boat, possibly the best on Koh Lanta. Small diver numbers, which is an enormous advantage. Great team of dive professionals. Numerous languages spoken. Plus connected to the best resort on Koh Lanta - the Pimalai Resort and Spa (a member of Small Luxury Hotels of the World). |
| The Bad: | Very good quality, but unimaginative and repetitive food. Diving is not about the food though is it! |
| Conclusion: | Our personal choice, and the dive shop we highly recommend if you plan to dive off Koh Lanta. |
See other recent news regarding: Interviews, Videos, Pimalai, Krabi, Koh Lanta, Kan Tiang, Diving