Kansai Airports, the operator of Kansai International Airport (KIX) and Osaka International Airport (ITAMI), is conducting a trial of SITA's intelligent check-in kiosk, called Kate.
Kate is designed to autonomously move to congested areas in the airport with the aim of reducing check-in queues.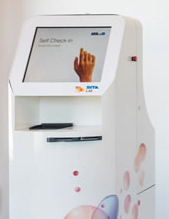 Kate's collision avoidance technology, combined with various data sources, decides where it should be – whether at a busy area to ease congestion or to a docking station to recharge when power source runs low.
The trial with Kate at Kansai will run in February for one month starting in Terminal 1, with many airlines including Air France, Air China, Cathay Pacific Airways, Japan Airlines, Korean Air, KLM, All Nippon Airways, Asiana Airlines and United Airlines.
Sumesh Patel, SITA President, Asia Pacific, said, "Japan has always been a forerunner in robotic innovations and intelligent technology. It is no surprise that Kansai Airports is leading the industry with the trial of SITA's intelligent check-in kiosk, KATE. SITA has been the technology partner of Kansai Airports for the past three years, and we are thrilled to be partnering with the airport to introduce intelligent machines to improve the passenger experience. We will work with Kansai Airport to evaluate how this new technology is able to provide an even better traveler experience at the airport."

See latest HD Video Interviews, Podcasts and other news regarding: Kansai, SITA, Robots.