SilkAir, the regional wing of Singapore Airlines, has taken delivery of the first of 37 Boeing 737 MAX 8s ordered.
The MAX 8 aircraft features an enhanced Business Class, with a new seat configuration of 156 seats – 12 Business Class seats and 144 Economy Class seats.
The new Business Class cabin features a 25% increase in seat pitch (39" to 49") as well as additional seat recline (8" to 12") for added comfort. These new seats will also feature a convenient side pocket for easily accessible personal storage, as well as a USB and 3-pin charging port to keep devices fully charged throughout the flight. To top off the experience, Business Class customers can also look forward to indulging in gourmet coffee from illycaffe, brewed freshly on-board.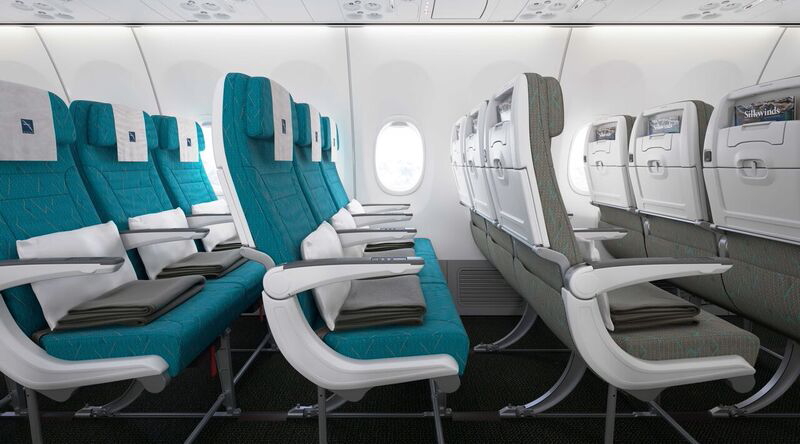 Economy Class seats (pictured), in both aqua and light grey, have also been refined and showcase a sleeker and more ergonomic design. In an effort to increase comfort and convenience, seats in Economy Class are fitted with seat-back tablet and phone holders and are accompanied by personal in-seat USB charging ports.
The SilkAir Studio IFE service has also been upgraded to ensure that the latest entertainment options are available. It now offers more than 100 exciting blockbuster hits, Hollywood and international movies, 40 television shows as well as chart-topping music.
Mr. Foo Chai Woo, Chief Executive of SilkAir said, "We are thrilled to be welcoming the new Boeing 737 MAX 8 to the SilkAir family. The new MAX 8 enables us to offer customers access to new and exciting destinations and paves the way for a new phase of growth. With the aircraft entering into service soon, we look forward to inviting customers on-board to enjoy the quality experience that the MAX 8 offers."
The first new destination the MAX 8 will fly to is Hiroshima, Japan, with the inaugural flight taking place on 30 October 2017. This marks the first Japanese destination that SilkAir has added to its network.
With a return flight service to run three times a week, this route will also be the only non-stop service between Hiroshima and Singapore, providing travellers greater connectivity from Japan to Singapore, as well as to the rest of the region.
The new route will also see the introduction of Japanese cuisine so customers can enjoy authentic Japanese flavours in dishes such as chicken curry don, mixed flavoured rice with Tsukune chicken balls and Omu rice.
Two more MAX 8s are expected to be delivered by the end of the year, with another 34 on order. Besides the newly introduced destination of Hiroshima, all MAX 8 aircraft will also be deployed to other longer haul destinations in the network including Cairns, Darwin, Kathmandu, Hyderabad and Bangalore.

See other recent news regarding: SilkAir, Japan, Singapore, Changi.