[Updated: 8 August 2017] On 23 May 2017, Steven Howard, Founder and Editor of ASIATravelTips.com / TravelNewsAsia.com, tripped on some abandoned barbed wire, camouflaged on the forest floor by rotting tree leaves and other plant waste, and fell, starting a series of events which have changed his life forever.
Breaking his fall was a branch from a felled bamboo tree (pictured) which, while not sharp, entered his right eye and caused a lot of very serious damage, ultimately leading to his eye being removed on 7 June 2017.
He was first rushed to the hospital at Kaset Wisai in Thailand's Roi-Et Province and after a few quick tests to see if his right eye was responsive to light (it wasn't) they immediately sent him by ambulance to the much larger and better equipped Roi-Et Hospital, 60 kms away, for tests and evaluation.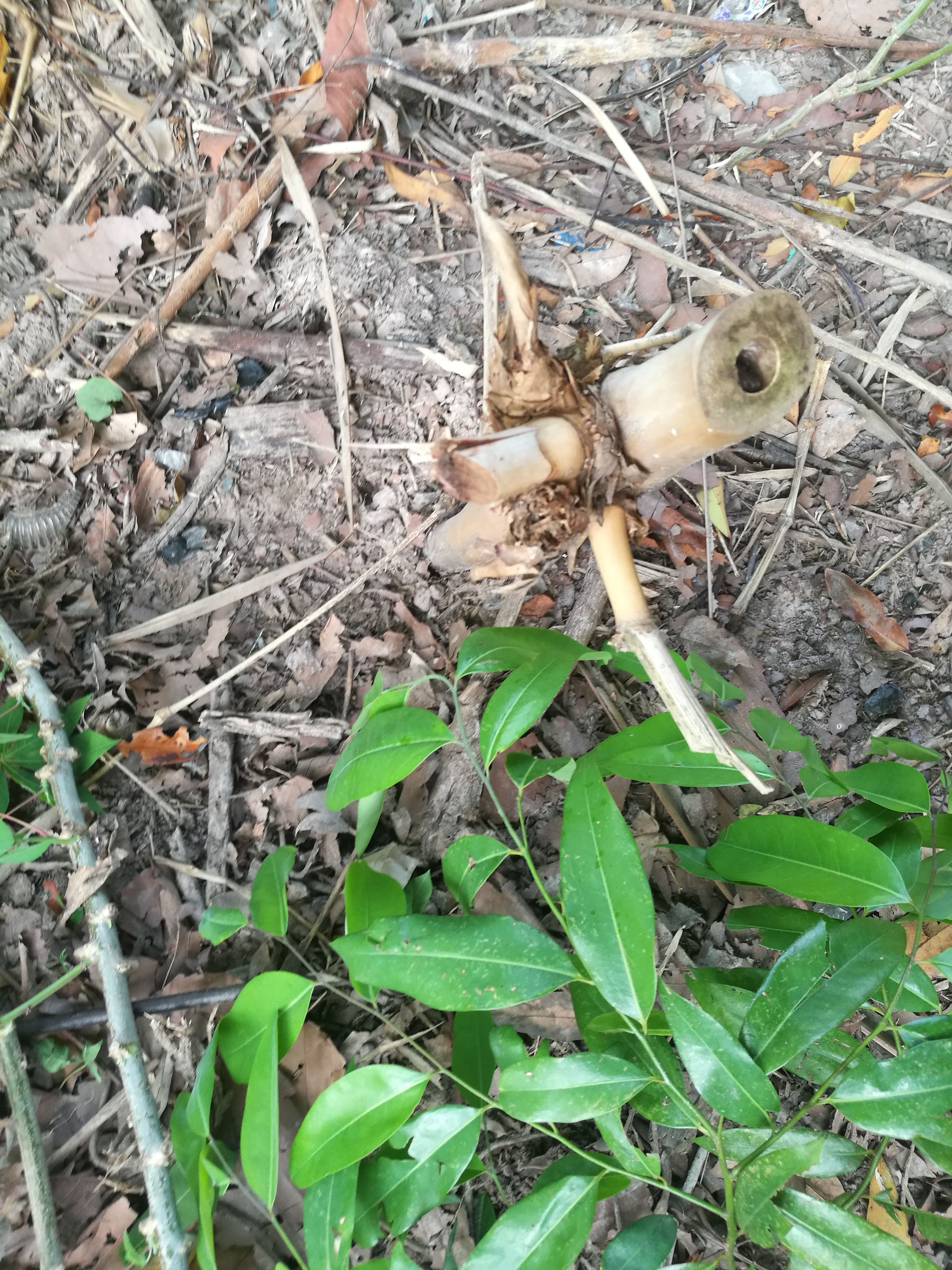 The first surgery, which involved cleaning dirt from around the eye and doing stitches in three places on the upper and lower eyelids, was done on 24 May 2017.
Up until Tuesday, 30 May 2017, (some 7 days after being admitted) the doctor had not been able to see inside the eye to assess the damage. This was for two reasons. One, there was too much blood in the eye, and two, the upper eyelid was proving very reluctant and difficult to move.
This eventually had to be done manually and on Tuesday (30/5) the upper eyelid was pushed up to allow the doctor in charge to at least have a brief glance at the eye. This procedure was repeated with a Consultant Doctor in the evening of the same day, using a Spectro-something or other, to have a closer look.
According to the doctors, the results from these two tests was that Steven had cornea abrasion - which is something similar to a skin abrasion and actually repairs itself overtime though this can be speeded up through some eye drops.
Much more potentially serious however, was the blood and the numerous blood clots in the eye. The blood was at both the front of the eye in the lens, and the "back is full of it" said one of the doctors. To clean the blood so that the doctors could see the eye properly required an operation called an Anterior Chamber Wash-Out.
The Doctor at Roi-Et Hospital, in consultation with other experts, decided that she did not have the experience to do such an operation, especially as she was concerned about what complications may arise once they could more clearly see the damage done. Because of this, Steven had to change hospitals and had to decide between the numerous hospitals in Bangkok or another hospital in Isaan, such as Khon Kaen.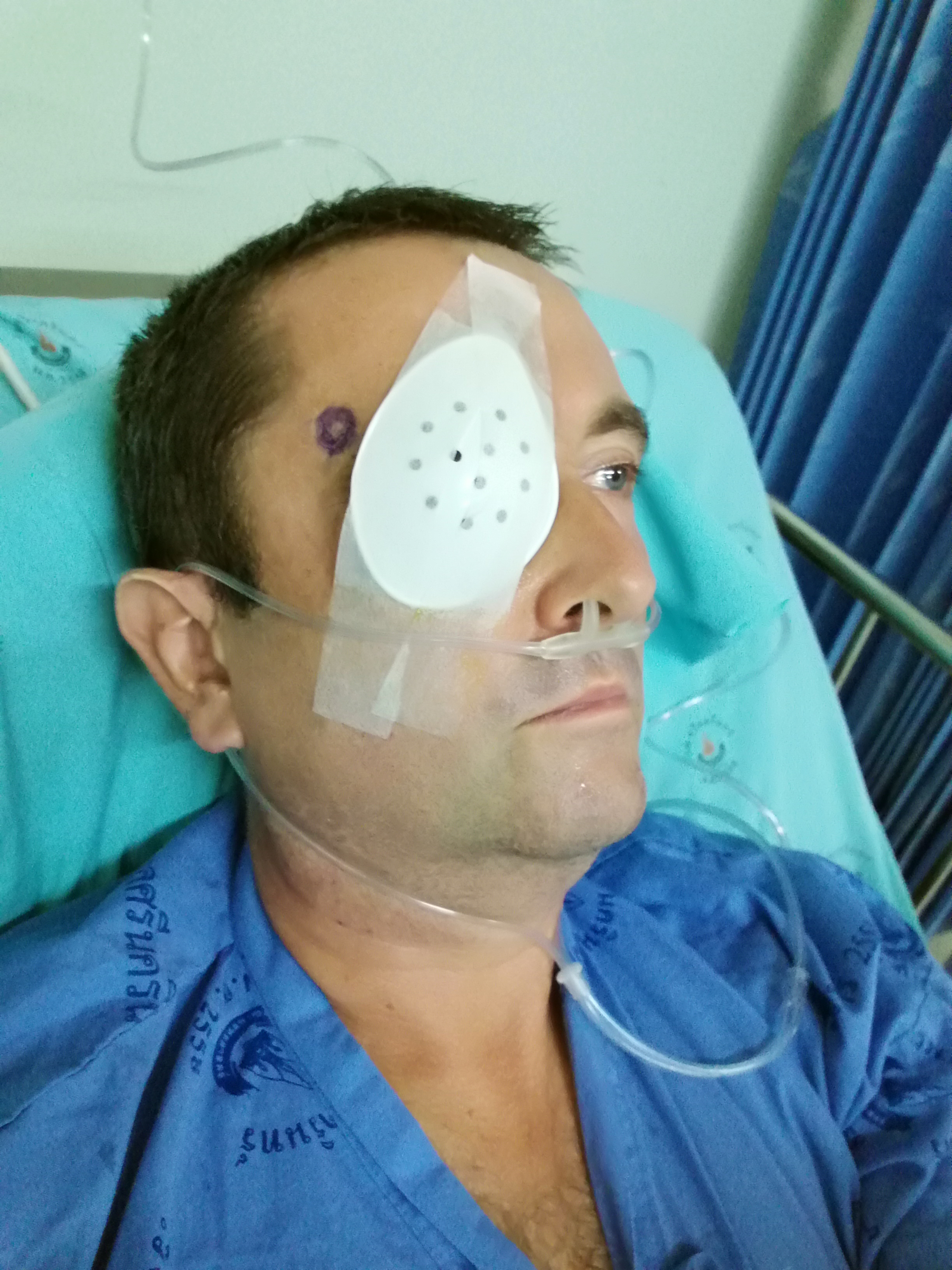 He left Roi-Et Hospital on 1 June and travelled by taxi directly to Srinagarind Hospital - Faculty of Medicine in Khon Kaen, some 2-3 hours away.
Khon Kaen University is extremely well respected throughout the region and widely regarded by many as one of the very best in Thailand. Not only that, but it is also home to one of Thailand's very best eye doctors and surgeons which makes it an excellent choice for me after Roi-Et. It is also much more reasonably priced than most, if not all, the hospitals in Bangkok.
The first day on 1 June, a Thursday, was a very painful experience for Steven as not only did the car journey cause him a severe headache, but the doctors at the hospital wanted to conduct their own tests on the eye before they admitted him.
The tests involved giving blood, urine and stool samples, having x-rays taken and even a cardiovascular exam, all in addition to many more tests on his eye.
After the first day, the doctors decided that he had an Optical Nerve Injury. This was investigated on Friday, 2 June with a CT scan and he was put on a 3-day course of very strong steroids in very high doses. The steroids were so strong patients have to sign a separate disclaimer saying that they understand the many, many possible side effects, one of which is death!
The results from the CT scan came back on Saturday morning and show much more damage than the doctors had originally realised. There are numerous fractures all around the eye, including the Superior Orbital Wall and the Inferior Orbital Wall. The Inferior Orbital Wall has been fractured by more than 50%, and the Orbital Globe has been crushed and ruptured. The only small amount of good news in all that is that the fractures in the Superior Orbital Wall (next to the brain) have not passed through the Dura (the brain's final layer of protection) and no air, blood or spinal fluid has leaked onto the brain.
Steven went for the Anterior Chamber Washout operation on Monday. He was under full general anesthetic and the procedure went as well as can expected. Unfortunately his Doctor, who was brilliant throughout this entire ordeal, discovered that massive damage has also been done to the back of the eye. He tried to repair some of it, but he said that it was impossible to fully repair and as such posed a risk to Steven's brain and also his good eye.
For that reason, it was decided on Tuesday (6 June 207) that Steven's damaged right eye would be removed on Wednesday and replaced by a ball.
Despite fasting since midnight the evening before, not drinking or eating anything, Steven's operation could not be done on the Wednesday and was instead done on Thursday afternoon instead. It was a much longer process than had initially been expected lasting around 2-3 hours and Steven describes the pain level on returning to the ward as "extreme to sat the least". Steven was then put on another course of strong antibiotics.
Steven was discharged from the hospital in Khon Kaen on 11 June 2017 and arrived back in England on 13 June 2017. At first he thought that he would get a prosthetic eye, but it seems that a lot of damage has also been done to the muscles in his eye and has not been able to lift his upper eyelid since the accident on 23 May 2017. Because of this, he may decide not to have a prosthetic eye and instead choose to wear a patch for the rest of his life. Steven is already back at work and the travel news resumed on 1 July. He has also tested taking still photographs and has found that he is still able to do that using his left eye without, it seems, any impact to the quality of the images or his ability to change camera settings with his hands.
Steven has said that pictures from this ordeal will eventually be uploaded, as well as some articles about what it is like to live in two different government hospitals in Isaan, Thailand for about 21 days.
BIO - Steven Howard, Editor / Founder
Our editor (and founder), Steven Howard, worked for two of the largest banks in the world before entering the travel industry in Asia over 20 years ago.
Steven has been Publisher of ASIA Travel Trade magazine - the oldest travel trade magazine in Asia, and Frequent Traveller magazine - the leading corporate consumer travel magazine in Asia.
He has also worked as Group Publisher of Panacea Publishing Asia, managing well known regional travel magazines such as Mix! - Asia's Creative Meetings Magazine, Business Traveller China and Business Traveller Asia Pacific.
Steven is also a professional photographer and videographer. Not only has he conducted well over over five hundred (500) exclusive video interviews with Ministers of Tourism from different countries, CEOs, MDs and other leading figures from within the travel and aviation industries, but has had his photography published in magazines around the world, and even a movie!
He has a passion for travel, cycling, sports in general, as well as the immense benefits that sport tourism can bring to a destination, both in the short and long term.
Being a firm believer that 5-star does not always mean best, he loves to discover new places, hotels, ideas and concepts, and to share those finds with readers.
Never one to shy away from getting his hands dirty, he is as happy sat in the cold rain taking pictures of an event, as he is sipping the finest wines, whiskies and Champagnes in the executive floor of a true 5-star hotel.
See other recent news regarding: Steven Howard, Ubon Ratchathani, Roi-Et, Khon Kaen.