Travelodge has unveiled plans to open seven hotels across the UK in the next few weeks leading up to Christmas.
The expansion, representing an investment of £68 million for third party investors, will create 140 new jobs and will boost Travelodge's portfolio to 559 hotels.
The seven new Travelodge hotels are located across the UK with two properties in the Capital (London Brent Cross and London Harrow), three hotels in key business and leisure cities: (Bath, Liverpool and Newcastle), and one in Scotland (Inverness). The seventh hotel is situated in the commuter belt area of Redhill, Surrey.
Six of the hotels are new-build developments, apart from Liverpool John Lennon Travelodge, which is an acquisition of a former Holiday Inn Express hotel. Travelodge has taken a 25 year lease to operate the hotel from Peel Land and Property Group and during the last few months the hotel has undergone a £2 million refurbishment to transform it to the new look Travelodge.
All of the new build hotels, apart from Bath City Centre (Bath Spa), will feature the Travelodge Bar Café, offering customers a breakfast, dinner and bar menu, which includes an unlimited breakfast for customers with children eating for free.
The new Travelodge hotels all feature the next generation of the company's 'Travelodgical' contemporary room design. Together with the bespoke king-size Travelodge Dreamer bed, this now includes new bedside USB charging points; new softer LED ceiling lighting, giving the room a warmer feel; 'Comfort cooling' and a Samsung 32-inch digital television.
Paul Harvey, Travelodge Managing Director, Property said, "The growth of the low-cost hotel sector continues, fuelled by businesses looking to reduce travel costs and the new generation of independent leisure travellers. Our seven new hotels support Travelodge's drive to extend its network of properties in key UK locations. With 559 hotels spread across the length and breadth of the UK you can now find a Travelodge close to where you need to be and it's the ideal spare room for visiting family and friends over the Christmas period."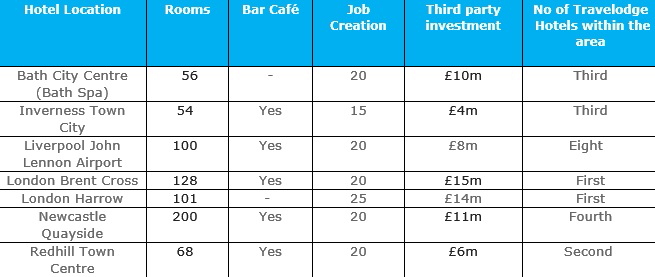 "Looking ahead, the UK still lags major markets like the United States in its provision of good quality, low cost hotels. More than 1 in 3 hotels in the US are branded budget, compared to around 1 in 5 in the UK. With room to grow, we have identified around 200 further locations where we believe we can take Travelodge over the years ahead. We expect to further extend our national network and also to add more rooms in London, where with average hotel prices currently at almost twice the level of the UK regions, customers are crying out for more good quality, low-cost places to stay," Paul added.
Travelodge is also expanding rapidly in Asia and recently opened its first hotel in Bangkok, Thailand.
PODCAST
See also: CEO of Travelodge Thailand Outlines Expansion Plans in HD Video Interview and other recent interviews: China Airlines to Resume London Flights on 1 December 2017, Owner of Rock 'n' Roll Hotel in London Outlines Asia Pacific Expansion Plans, The Truants Raise Over £3,000,000 for Three Children's Charities, ASEAN Tourism Forum 2018 in Chiang Mai, Thailand - What Does TAT Have Planned?, The Ritz-Carlton, Tokyo - HD Video Interview with Mr. John R. Rolfs, General Manager, HD Videos and Podcasts.
See latest HD Video Interviews, Podcasts and other news regarding: Travelodge, England, Scotland.