NokScoot has implemented Hahn Air Systems' H1-Air product, making the Thai-based airline available for HR-169 ticketing in all major GDSs worldwide under the reservation code H1.
Earlier in 2017, the airline signed an HR-169 interline agreement with Hahn Air making NokScoot available under its own XW code in the Abacus/Sabre, Amadeus and Travelsky GDSs.
NokScoot is the 15th partner to benefit from the two products of the Hahn Air Group.
As a result of this so called Dual Partnership, NokScoot will benefit from a full suite of services, including scheduling, fare filing, messaging, inventory management, settlements and HR-169 ticketing. This will help to optimise its distribution strategy and commercial reach to over 100,000 travel agencies in more than 190 markets worldwide.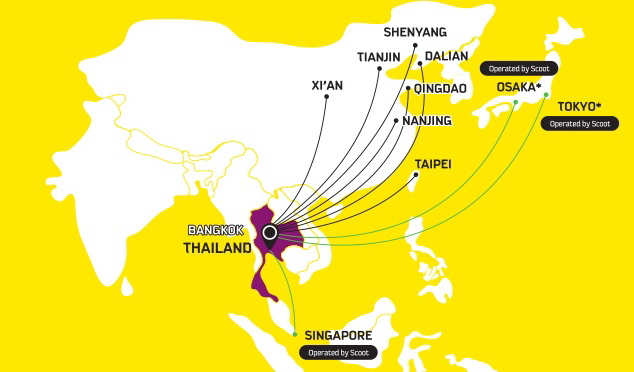 Launched in 2014, NokScoot is the joint venture between Singapore Airlines' budget airline, Scoot, and the Thai airline, Nok Air. NokScoot, operating out of Bangkok's Don Mueang International Airport, offers LCC services on medium to long-haul destinations, including Dalian, Nanjing, Taipei, Tianjin, Tsingtao and Shenyang.
"We are thrilled that NokScoot decided to take its indirect distribution to the next level by combining the two products of the Hahn Air Group," said Alexander Proschka, Head of Hahn Air Systems. "While selling tickets under its own XW designator in its BSP markets, Nokscoot can now rely on H1 for distribution in all of its non-BSP markets and in additional GDSs. By increasing its GDS visibility, the H1-Air partnership will ultimately help the airline to reach new customers and tap into additional revenue streams."
NokScoot's Chief Executive Officer, Yodchai Sudhidhanakul, added, "As our route network expands, we need to offer the ticketing possibility to travel agents who book traditionally via GDSs. Choosing Hahn Air Systems' product helped us provide a seamless and cost-efficient solution that ensures our routes are available in all major GDSs worldwide."

Recent interviews: China Airlines to Resume London Flights on 1 December 2017, Owner of Rock 'n' Roll Hotel in London Outlines Asia Pacific Expansion Plans, The Truants Raise Over £3,000,000 for Three Children's Charities, ASEAN Tourism Forum 2018 in Chiang Mai, Thailand - What Does TAT Have Planned? and The Ritz-Carlton, Tokyo - HD Video Interview with Mr. John R. Rolfs, General Manager.
See latest HD Video Interviews, Podcasts and other news regarding: NokScoot, Hahn Air.