Delivery of the first Airbus A350-1000, the longest-fuselage version of Airbus' A350 XWB jetliner, is planned before year-end now that Airbus has received the aircraft's Type Certification by the European and U.S. airworthiness authorities.
The milestone occurred less than one year after the A350-1000's maiden flight on 24 November 2016 from Toulouse-Blagnac Airport, where the A350 XWB final assembly line is located.
With its airworthiness Type Certificate approval, formally presented by the European Aviation Safety Agency (EASA) and the U.S. Federal Aviation Administration (FAA), Airbus is targeting the first A350-1000 delivery before year-end to launch operator Qatar Airways.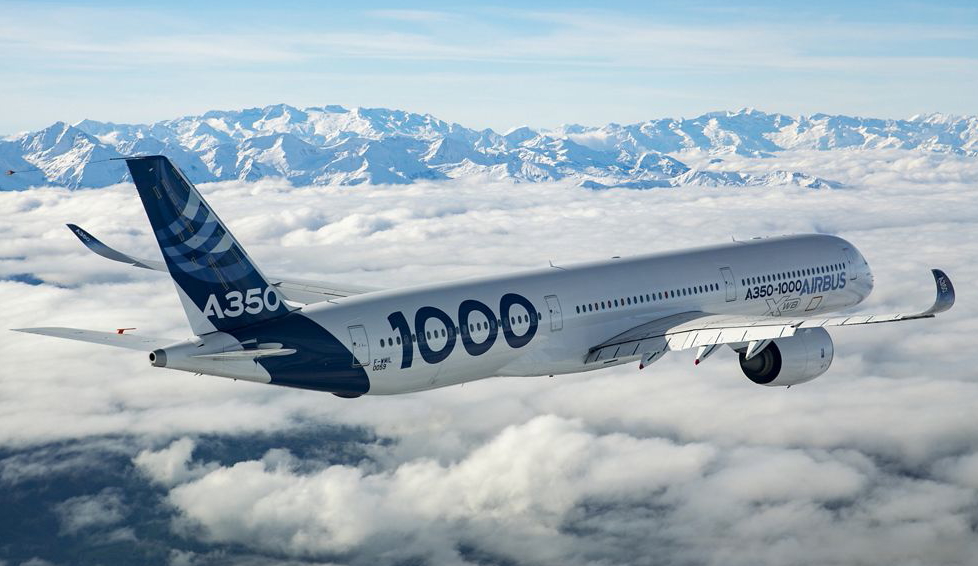 More than half of the major A350 XWB customers have ordered both the A350-1000 and the shorter-fuselage A350-900 versions, which is the case for Qatar Airways (acquiring 37 A350-1000s, along with 39 A350-900 versions).
Demonstrating the A350 XWB Family's flexibility, the A350-1000 and A350-900 feature a high level of commonality – with 95% common system part numbers.
Differences with the A350-1000 version include higher-thrust Rolls-Royce Trent XWB-97 engines and enhanced main landing gears with six wheels.
The A350-1000's seven-metre-longer fuselage also translates into greater capacity, accommodating 366 passengers in a standard 3-class configuration. This is 40+ more seats than the A350-900, responding to market needs for larger cabin zones with premium-type seats. With its additional passenger-carrying capacity and its same range as the A350-900, the A350-1000 is well suited for some of the airline industry's busiest long-haul routes.
To date 11 customers from five continents have ordered a total of 169 A350-1000s. Combined bookings for both the A350-1000 and A350-900 stood at 858 from 45 customers as of 31 October.
The A350-900 first entered airline service in January 2015 and today more than 120 of these jetliners have been delivered to operators around the world.

Recent interviews: Will China Airlines Buy The A350-1000? - One question of exclusive interview with Senior Vice President.
See latest HD Video Interviews, Podcasts and other news regarding: Airbus, EASA, FAA, A350-1000, Qatar Airways.