Philippine Airlines has taken delivery of its second bi-class next generation Bombardier Q400.
The 86-seat plane, to be utilized for select intra-domestic routes, departed from Toronto and made technical stops in Newfoundland (Canada), Lebourget (France), Malta, Egypt, the United Arab Emirates, Pakistan, India, Bangladesh and Thailand before landing in Manila.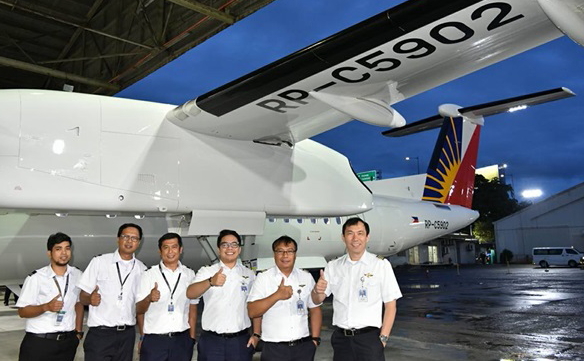 In command of the aircraft were Captain Ryan Buhawe and Captain Melvin Olazo. Completing the flight deck roster were Crew Chief Moises Menor, First Officer Jeffrey Royce Panit, aircraft mechanics Jayson Gregorio and Willy Caducio.
PAL and Bombardier signed an agreement at the Paris Air Show for the purchase of 12 Next Gen Q4s; the remaining 10 units of which will be delivered within 2017 - 2019.
The newest member of the PAL family brings to 83 the total number of planes on the airline's fleet.

See other recent news regarding: PAL, Q400, Philippine Airlines, Philippines.