[HD video below] Singapore Airlines has unveiled its highly-anticipated new cabin products which will be fitted to its Airbus A380 fleet starting from next month, following an extensive four-year development programme.
Riding on the theme of "Space made personal, experience the difference", the new cabin offerings provide more space and privacy in all classes, featuring intimate and bespoke elements designed especially for the Singapore Airlines customer.
The new cabin products will enter service next month on the first of five new A380 aircraft entering the fleet. Retrofit work will start in late 2018 on the 14 existing A380s that will be fitted with the new products, with all targeted for completion in 2020.
The new Singapore Airlines A380 will be configured with 471 seats in four classes, featuring six Singapore Airlines Suites and 78 Business Class seats on the upper deck, as well as 44 Premium Economy Class seats and 343 Economy Class seats on the main deck.
The research, design, development and installation of the new products on 19 Singapore Airlines A380s represents an investment of about US$850 million.
Singapore Airlines' A380s currently serve Auckland, Beijing, Frankfurt, Hong Kong, London, Melbourne, Mumbai, New Delhi, New York, Paris, Shanghai, Sydney, and Zurich.
Singapore Airlines Suites
The A380 will feature six Suites in the front cabin of the upper deck.
Each Suite is furnished with a separate full-flat bed with adjustable recline and plush leather chair, enabling customers to lounge comfortably in the chair or rest in bed without the need to convert the bed from a sitting position.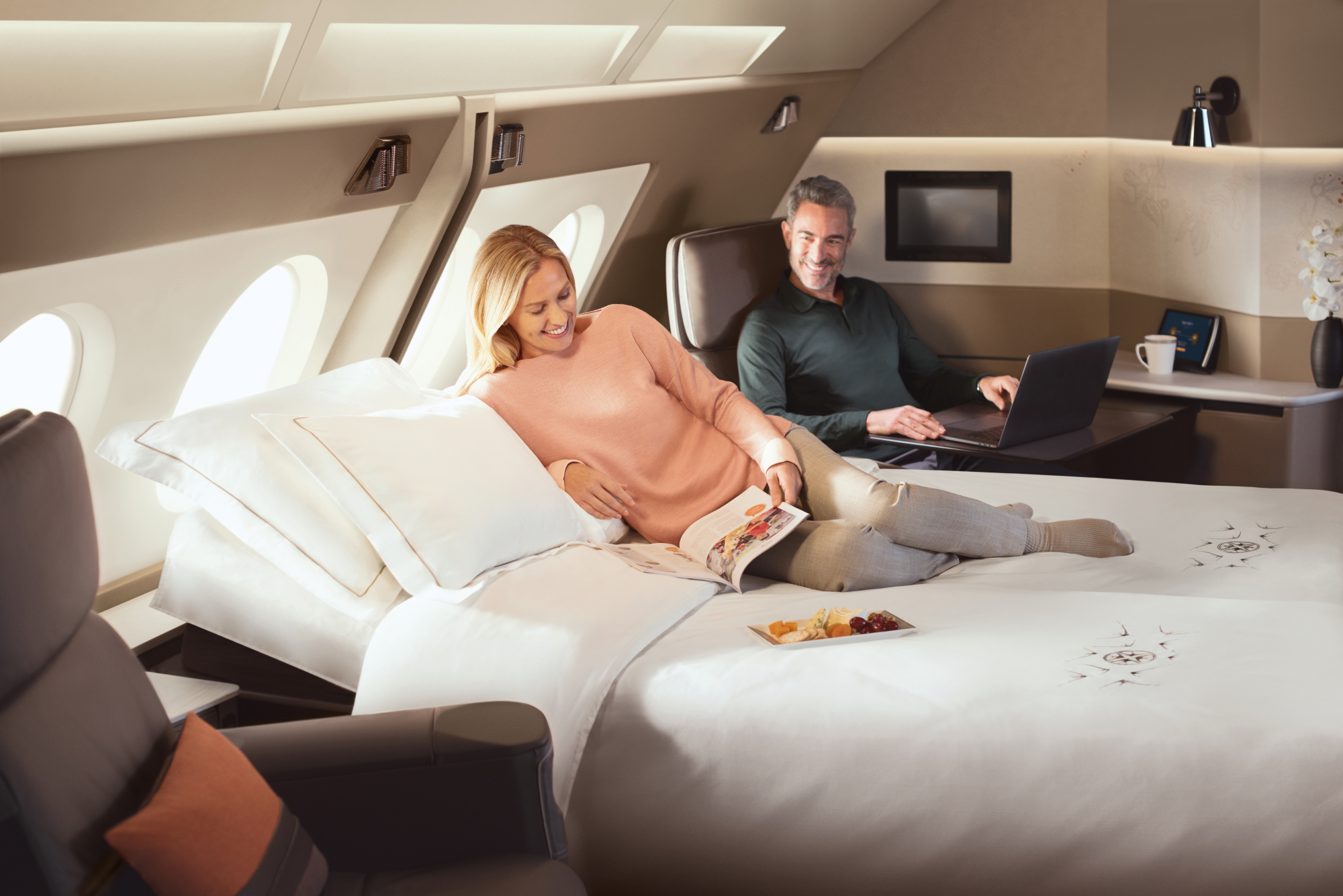 For couples travelling together, the beds in the first two Suites of each aisle can be converted to form a double bed. When not in use, the bed can be stowed completely, creating even more personal space within each Suite.
Each seat is upholstered by world-renowned Poltrona Frau in fine leather, and is fully adjustable using an electronic control side panel which can accommodate a variety of sitting and lounging positions. The swivel capability of the chair (between 135 and 270 degrees) with recline up to 45 degrees provides added flexibility for dining and relaxation.
Each Suite also has a 32-inch full HD monitor that can swivel for the different viewing angles in seat and bed modes, a full-sized personal wardrobe, customised handbag stowage compartment, amenity box lined with soft leather, specially designed carpet and a feature wall with mood lighting.
The exclusivity of the Suites cabin is further accentuated by its two stylishly furnished lavatories, one of which has a sit-down vanity counter.
The new Suites were designed by Pierrejean Design Studio and manufactured by Zodiac Seats UK.
Business Class
Designed by JPA Design of the UK and manufactured for Singapore Airlines by JAMCO Corporation of Japan, the interior of the Business Class cabin features a selection of leather and fabrics, in addition to lightweight carbon composite materials.
Measuring 25 inches in width, the Business Class seat, which has two side wings for better back support, reclines directly into a full-flat bed (78 inches).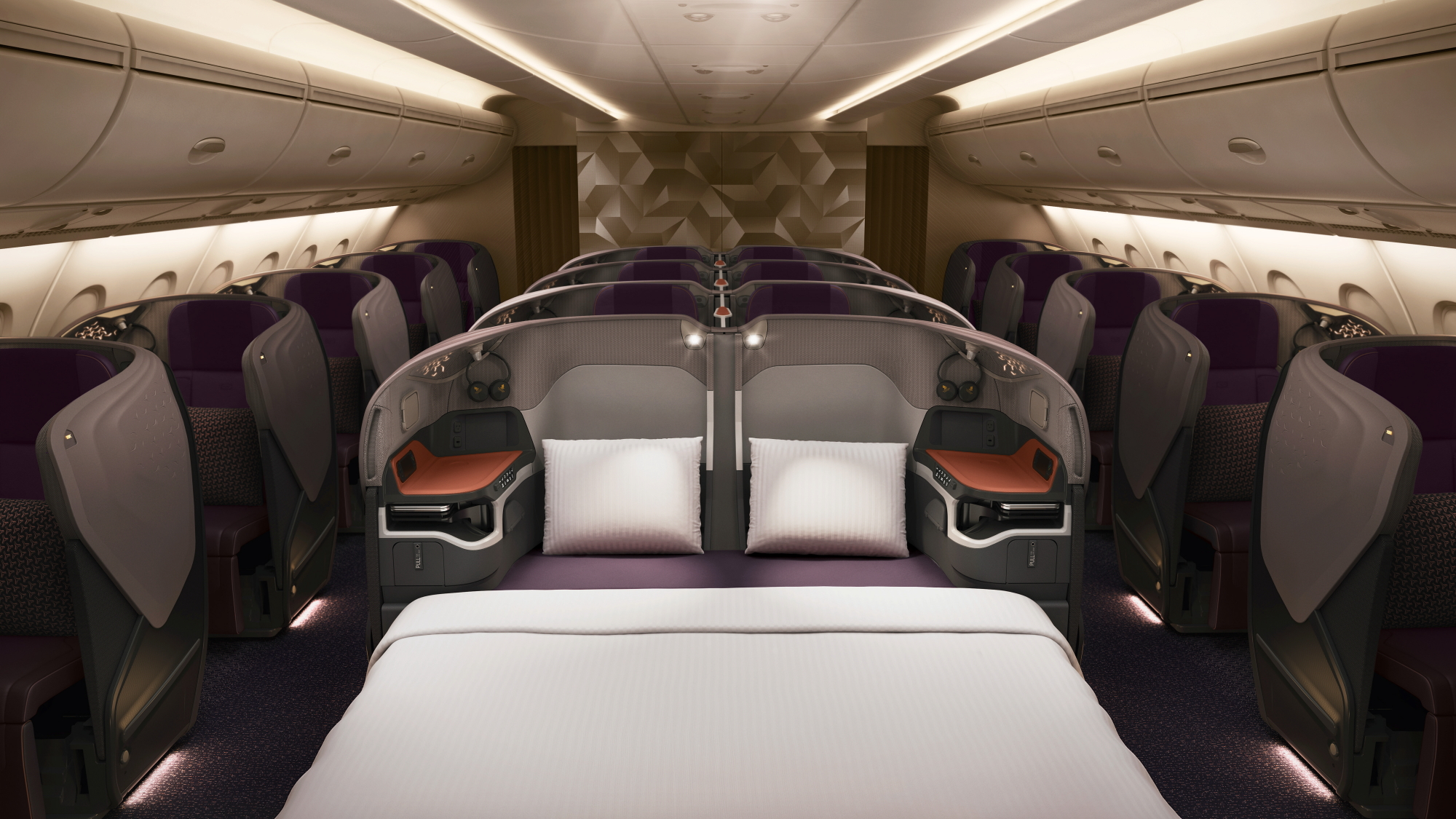 Customers may also stretch out fully in a 'sun-deck' position to watch movies on the 18-inch high definition touch-screen monitor. The Business Class seat is upholstered by Poltrona Frau as well.
A larger back shell on every seat creates a cocoon-like feel for more privacy while the centre divider can be fully lowered to form double beds.
An unique feature of the new Business Class seat is that it has a carbon fibre composite shell structure, as compared to conventional aircraft seats which use metal as the primary support structure. This thinner base structure allows for better optimisation of the seat and creates more under-seat stowage space to accommodate a full-sized cabin bag and laptop bag or handbag.
Seats in the Business Class cabin are arranged in a forward-facing, four-abreast (1-2-1) configuration that offers all customers direct access to the aisle.
Other features include a business panel equipped with USB ports and in-seat power, reading lights with adjustable brightness level, mood lighting, enlarged dining table designed for flexibility in dining positions, as well as stowage space for personal amenities.
Premium Economy Class
Each seat is 19.5 inches wide, with eight-inch recline and seat pitch of 38 inches. Customers will be treated to an enhanced in-flight entertainment experience with the provision of active noise-cancelling headphones and a sleek 13.3-inch full HD monitor.
Other features include a full leather finishing, calf-rest and foot-bar for every seat, individual in-seat power supply, two USB ports, personal in-seat reading light, cocktail table, and more stowage space for personal items.
The Premium Economy Class seat was manufactured by ZIM Flugsitz GmbH and customised by design firm JPA Design.
Economy Class
Leveraging on advanced technology and ergonomics, seats offer more legroom and back support, with a six-way adjustable headrest with foldable wings. The Economy Class seat also features a more contemporary fabric seat cover design.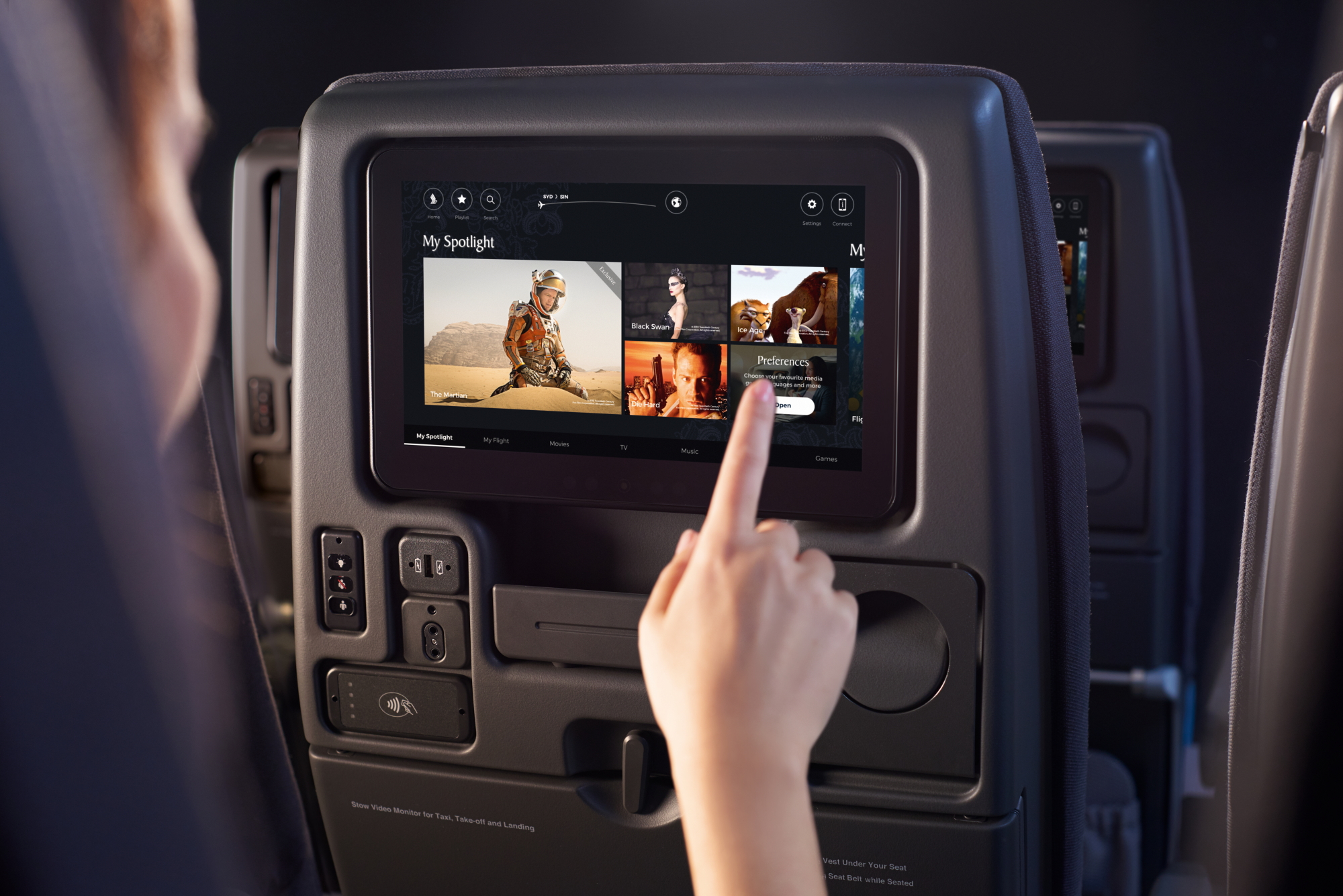 Other features include a patented non-intrusive reading light installed underneath the seatback screen, an 11.1-inch touch-screen monitor, personal storage space for small personal items, a coat hook, in-seat power supply and ergonomically designed footrest with adjustable positions.
The Economy Class seats were designed and built by RECARO.
"The significant investment that we are making with the introduction of new cabin products demonstrates our commitment to continued investment in products and services, our long-term approach to ensure we retain our leadership position, and our confidence in the future of premium full-service air travel," said SIA CEO Mr Goh Choon Phong. "The new cabin products are the culmination of four years of work, involving extensive customer research and close partnerships with our designers and suppliers. We are confident that the results will genuinely 'wow' our customers, and ensure that we continue to provide them an unparalleled travel experience."
Singapore Airlines' Luxurious New Airbus A380 Suites and Business Class
See more: HD Videos and Podcasts.

See latest HD Video Interviews, Podcasts and other news regarding: Singapore Airlines, SIA, Singapore, Changi.