A new range of limited edition amenity kits from luxury luggage brands BRIC'S and Nappa Dori have made their debut on board Qatar Airways.
BRIC'S limited edition luxury amenity kits come in a selection of four colours for autumn – yellow, navy blue, blush and tan – and will be presented to passengers flying long-haul in First Class and Business Class.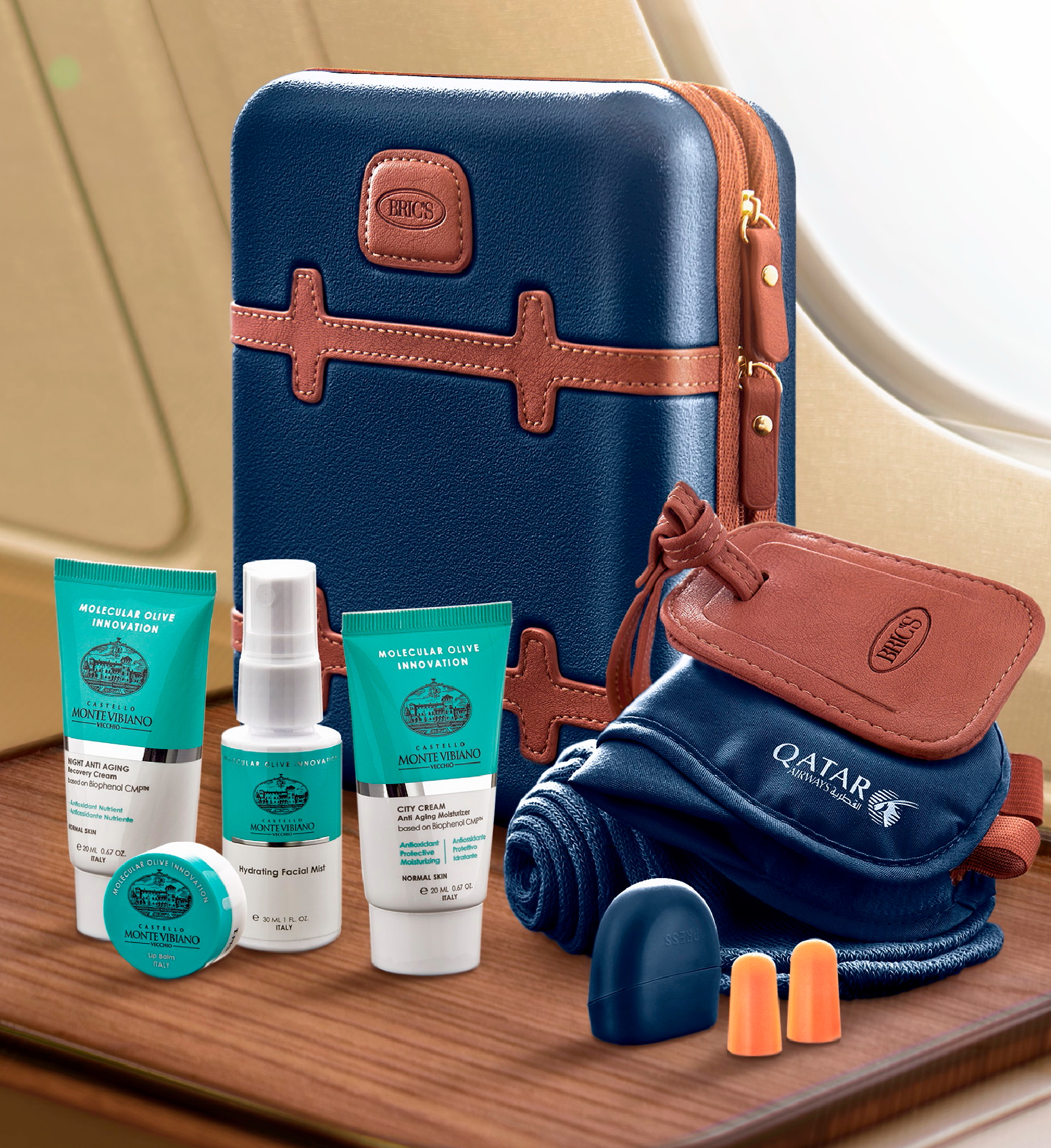 First Class and Business Class long-haul passengers will get a luxury amenity bag created exclusively for Qatar Airways by stylish Italian luggage brand, BRIC'S. The miniature versions of the Bellagio and Sintesis suitcase features a hard-shell with a Tuscan leather trim. Each bag contains exclusive products from Italy's Castello Monte Vibiano Vecchio, an environmentally friendly olive oil company. The skin care range includes lip balm, hydrating facial mist, and anti-ageing moisturiser in Business Class, with added Night Recovery Cream for First Class kits. Socks, eyeshades and ear plugs complete the range with the addition of a BRIC'S signature luggage tag for First Class.
Medium-haul customers flying in First Class and Business Class will get amenity kits developed by Nappa Dori. The kits feature select images from destinations around the world served by Qatar Airways, and contain socks, eyeshades and lip balm from Castello Monte Vibiano Vecchio.
This is just the latest initiative taken by Qatar Airways to enhance its service for passengers. Last month, the airline launched a new Pre-Select Dining service, allowing First and Business Class passengers to pre-select one main course from the ŕ la carte on-board menu as far as 14 days in advance and up to 24 hours before take-off.
See other recent news regarding: Qatar Airways, Qatar, Amenity Kits.