Thai Airways has taken delivery of its first Boeing 787-9 Dreamliner.
The delivery flight TG8909 departed from Boeing's Everett Delivery Centre, Seattle, Washington, U.S.A. directly to Bangkok, Thailand on 16 September at 21:20 hours (local time) and arrived at Bangkok Suvarnabhumi Airport on 17 September 2017 at 01:55 hours (Bangkok time).
The Boeing 787-9 Dreamliner, powered by Rolls-Royce Trent 1000 engines, is 20 feet (6 meters) longer than the 787-8, enabling it to carry more passengers and cargo.
The aircraft has 298 seats in a two-class cabin. Each of the 30 Royal Silk Class seats can recline to a long bed in full-flat, 180-degree position. The shell seats are arranged in a 1-2-1 abreast configuration allowing for privacy and easy access to the aisle. The 268 Economy Class seats are arranged in a 3-3-3 configuration.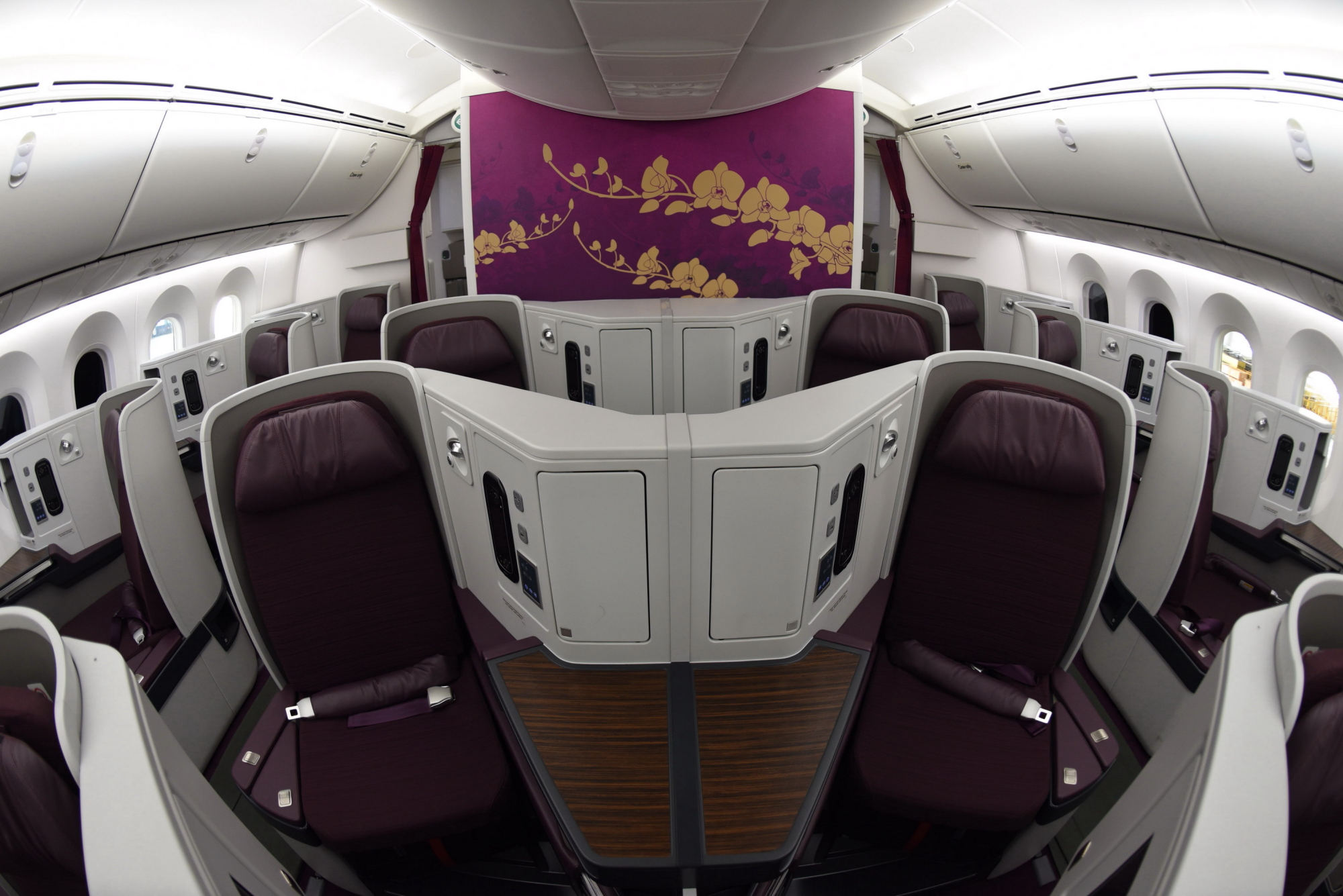 Thai Airways is the first airline to install the Panasonic eX3 in-flight entertainment system on a Boeing 787-9. Royal Silk Class monitors are 16 inches wide while Economy Class has 11-inch monitors with screen-swipe technology. Inflight connectivity (IFC) is also installed on the 787-9 with high speed Panasonic Ku band Wi-Fi.
Mrs. Usanee Sangsingkeo, THAI Acting President, said, "We are delighted to bring the new Boeing 787-9 Dreamliner fuel-efficient aircraft into our fleet. The Boeing 787-9 demonstrates our commitment to operating the most technologically advanced aircraft for passenger comfort. This type of aircraft is currently the most technologically advanced aircraft as well as the most modern and efficient aircraft, that meets customers' expectations."
This first 787-9 Dreamliner will operate its first commercial flight on the route from Bangkok to Chiang Mai and Phuket from 23-30 September 2017, then from Bangkok to Singapore from 1 October – 15 November 2017.
After the delivery of the second 787-9 aircraft, Thai Airways will operate roundtrip flights from Bangkok to Auckland, New Zealand and Bangkok to Taipei, Taiwan beginning on 16 November 2017.
Dr. Dinesh Keskar, Senior Vice President of Asia Pacific and India Sales, Boeing Commercial Airplanes, said, "Boeing is honored to deliver the first 787-9 Dreamliner to Thai Airways International. The 787-9 Dreamliner will allow Thai to fly longer distances and to new destinations directly from Thailand - such as nonstop to North America – while providing their passengers with their exceptional onboard experience complimented by the 787 Dreamliner's well-known and loved passenger features such as the largest window of any jet."
The aircraft, registration no. HS-TWA, has been royally bestowed the name "PHATTHANA NIKHOM".
See other recent news regarding: Boeing, Thai Airways, Thailand, 787-9.