Airbus has chosen the southern Chinese city of Shenzhen as the location of its China Innovation Centre, and signed a cooperation framework agreement with Invest Shenzhen.
The cooperation agreement will:
- Accelerate R&D, application, and industrialisation of in-flight experience, connectivity, new energy, and urban air mobility (UAM);
- Cultivate an integrated hardware and software ecosystem, relying on Shenzhen's high-end aviation R&D and advanced manufacturing industry value chain;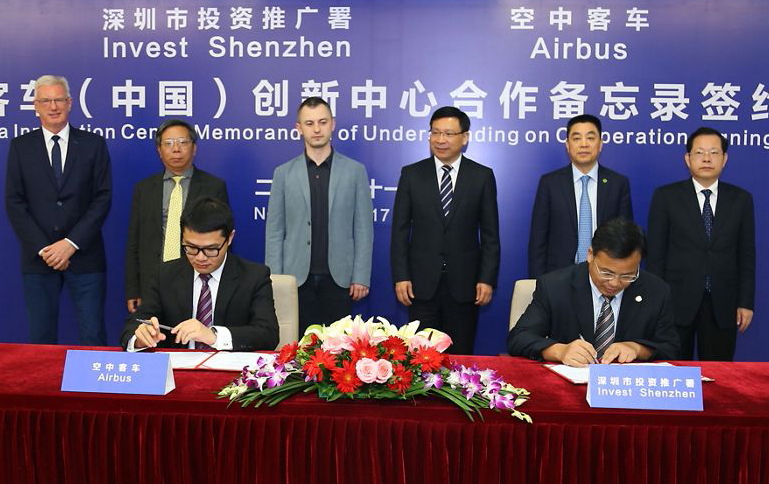 - Establish a technological innovation system, relying on Shenzhen's innovation ability, talent resources, and business environment.
Luo Gang, CEO of the Airbus China Innovation Centre said, "We are pleased with our strategic partnership with Shenzhen. The innovation centre will benefit from the advantages of policy planning, talent resources, and a favourable investment and financing environment from Shenzhen to impact global aviation innovation. The city boasts global competitive advantages in technology research and development, industrialization, and international expansion."
As CEO, Gang's first mission is to set up the innovation centre to be fully operational for its official opening later this year. The centre already has a number of ongoing initiatives in autonomous flight, UAM, and in-flight experience and is also in discussion with partners in relevant industries.
The new Airbus China Innovation Centre will serve to strengthen Airbus' extended worldwide innovation ecosystem which already includes a Silicon Valley innovation centre, A3.
Recent interviews: Owner of Rock 'n' Roll Hotel in London Outlines Asia Pacific Expansion Plans, The Truants Raise Over £540,000 from Kerala Trip and China Airlines to Resume London Flights on 1 December 2017.
See latest HD Video Interviews, Podcasts and other news regarding: Airbus, Shenzhen.