Tom Pritzker of Hyatt Hotels Corporation and The Pritzker Organization will be honored with a Lifetime Achievement Award at the Americas Lodging Investment Summit (ALIS) in Los Angeles on 22-24 January.
The award is presented to an individual who has made significant contributions to the hospitality industry through their actions, deeds, and accomplishments.
Pritzker is the Executive Chairman of Hyatt Hotels Corporation and Chairman and CEO of The Pritzker Organization, the family's historical merchant bank. He also sits on the Board of Directors of Royal Caribbean Cruises LTD.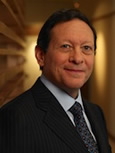 "Tom has built a career on a belief that doing good matters. His lifelong dedication and passion for giving back is an inspiration to us all," said Katherine Lugar, president and CEO of the American Hotel & Lodging Association. "His exemplary career is a model to so many in and outside our industry and there is no one more deserving of this award."
Over the course of his career Pritzker has been involved in founding an assortment of significant companies in a variety of fields including container leasing (Triton), biotech (Bay City Capital), and health care (Reliant Pharmaceuticals and First Health). He has also been engaged in building existing companies in a number of industries.
Pritzker is active in the community and philanthropic endeavors. He sits as Chairman of the Board of the Hyatt Foundation, which sponsors the Pritzker Architecture Prize. He is Chairman of the Center for Strategic & International Studies in Washington D.C., a member of the Board of Trustees of the University of Chicago, the Art Institute of Chicago, and a member of the Aspen Strategy Group. He organized and founded the Pritzker Neuropsychiatric Disorders Research Consortium, which is a collaborative research effort into the genetic basis of psychiatric disorders. Pritzker is also an Honorary Professor of History at Sichuan University in China, and for the past 30 years has been leading archeological expeditions and publishing original research in the field of Western Himalayan history. Pritzker is a Fellow of the American Academy of Arts and Science.
"We are delighted to be presenting the 2018 ALIS Lifetime Achievement Award to Tom Pritzker," added Jim Burba, Co-Founder of BHN and ALIS Chair. "Tom's professional accomplishments and personal character embody the spirit of the ALIS Lifetime Achievement Award and the hotel industry is fortunate to call him one of our own!"

See also: CEO of Sanctum Hotels Outlines Asia Pacific Expansion Plans in HD Video Interview.
See latest HD Video Interviews, Podcasts and other news regarding: Hyatt, Lifetime Achievement Award.