Indigo Partners' four portfolio airlines have signed a Memorandum of Understanding with Airbus for the purchase by the four airlines of 430 additional A320neo Family aircraft.
The aircraft will be allocated among the ultra low-cost airlines Frontier Airlines (United States), JetSMART (Chile), Volaris (Mexico) and Wizz Air (Hungary) upon the completion of final purchase agreements between Airbus and the four airlines.
The 430-aircraft commitment comprises of 273 A320neos and 157 A321neos worth $49.5 billion at list prices. The aircraft will be allocated as follows: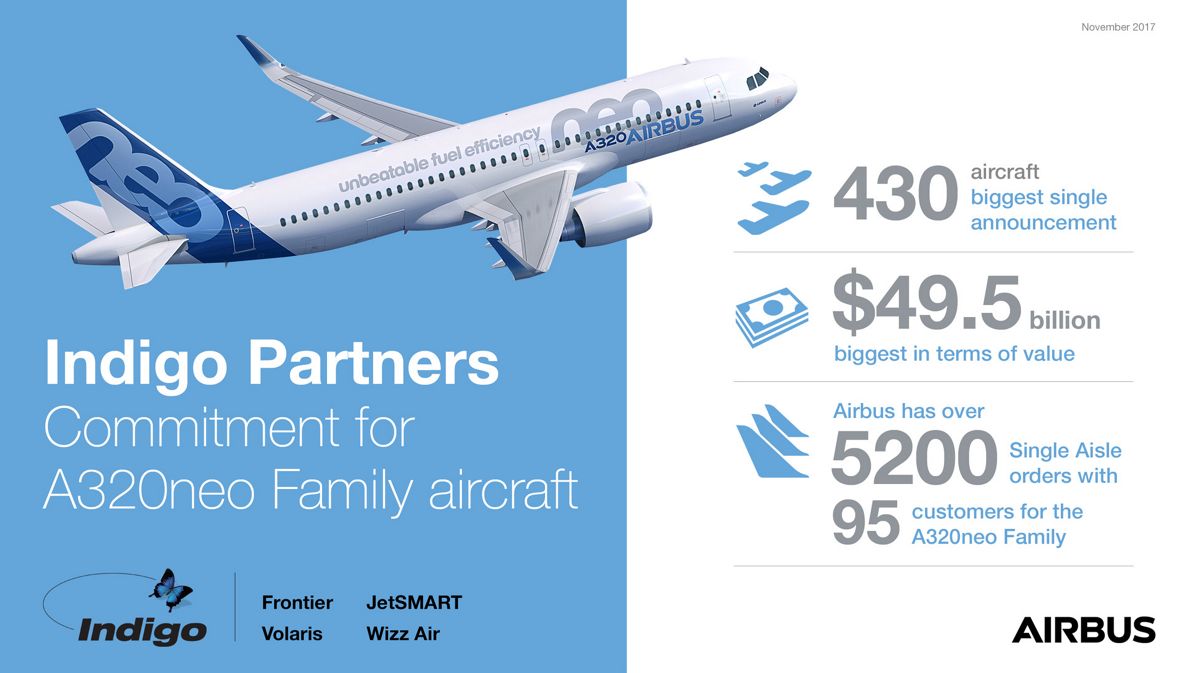 Wizz - 72 A320neo, 74 A321neo
Frontier - 100 A320neo, 34 A321neo
JetSMART - 56 A320neo, 14 A321neo
Volaris - 46 A320neo, 34 A321neo
"This significant commitment for 430 additional aircraft underscores our optimistic view of the growth potential of our family of low-cost airlines, as well as our confidence in the A320neo Family as a platform for that growth," said Bill Franke, Managing Partner of Indigo Partners. "Our airlines know that a great aircraft coupled with a great business plan will create value for our customers. We look forward to bringing comfort and low fares to more passengers around the world as Wizz Air, Volaris, JetSMART and Frontier continue to expand."
When added to existing Airbus A320 Family orders, the new agreement will make Indigo Partners one of the largest customers by order number in the world for the Airbus single-aisle aircraft family. Airlines in the Indigo Partners family previously have placed orders for 427 A320 Family aircraft.
Indigo Partners' Bill Franke indicated that engine selections will be made and announced at a later date.
Based in Phoenix, Arizona, Indigo Partners is a private equity fund focused on worldwide investments in air transportation.
See also: CEO of Sanctum Hotels Outlines Asia Pacific Expansion Plans in HD Video Interview.
See latest HD Video Interviews, Podcasts and other news regarding: Indigo, Airbus.